Pacific Grass is a 100% polypropylene fibre tufted into a polypropylene woven heat set ultraviolet stabilised backing. This backing is then coated with a styrene butadine rubber latex. Pacific Grass insures a cool glare free surface which minimises leg fatigue yet still allows consistent ball bounce.
A number of large Australian company's have come together in the manufacture of this product including ICI Plastics Pty Ltd one of the worlds biggest chemical companies that produces the virgin polypropylene granules. Ciba Chemicals and Grass Manufacturers Pty Ltd extrude the polypropylene granules and add the colorants and ultraviolet stabilisers. Mattex International Group is one of the world's fastest growing textile polyolefin converting companies supplies the woven polypropylene for the primary backing. Rubber Latex Pty Ltd provides the butadiene rubber for the secondary backing.
With the support of these large companies Pacific Grass is manufactured. The principals of this company have had over 27 years experience in synthetic grass tennis courts. Our laying of the synthetic grass has been fine tuned over these 27 years to a stage where long warranties can be very confidently offered.
Pacific Grass is laid in 3.66 metre strips (12 foot strips). The longitudinal lines are actually tufted into the Pacific Grass which cuts down dramatically on the number of seams incurred on tennis court installation.
Specially graded and washed silica sand from a quarry in Newcastle is broomed into the pile. This sand is specially rounded and graded to ensure that it is non abrasive and does not "powder". Approximately 14 tonnes of sand shall be utilised.
Recreational Surfacing Pty Ltd has been laying synthetic grass courts for the past 25 years. Long warranties (10 years) can be confidently offered on nearly all products.
PACIFIC GRASS CLUB
An excellent robust and hard wearing synthetic grass that we use for tennis associations, clubs and most private homes.

EAST ALBURY TENNIS CLUB NSW

PRIVATE COURT IN MIDDLE HARBOUR NSW

THE KINGS SCHOOL PARRAMATTA NSW

THE NADI CLUB NADI FIJI

BAYVIEW TENNIS CLUB

MANLY WARRINGAH TENNIS ASSOCIATION

STAR OF THE SEA TERRIGAL NSW
---
PACIFIC GRASS PRO FLIGHT 16
A very robust product that is shorter pile and more densely woven. This court does not take as much sand and therefore has a greener appearance.

PRIVATE COURT KILLARA NSW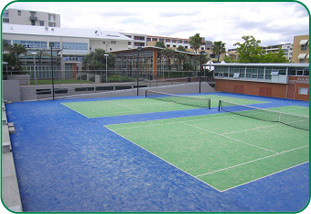 WATERFRONT HOMEBUSH BAY – (NEAR SYDNEY OLYMPIC PARK HOMEBUSH BAY)

PRIVATE HOME ROSEVILLE NSW

PYMBLE LADIES COLLEGE PYMBLE NSW
---
PACIFIC GRASS REFERENCES
| | |
| --- | --- |
| Griffith Tennis Association – 4 courts | Gloucester Tennis Club – 4 courts |
| St Anthony's Tennis Club – 4 courts | 4 Seasons Hotel Bali – 2 courts |
| The Palms Tennis Centre – 6 courts | Narraweena Tennis Club – 4 courts |
| Crestwood Tennis Club – 4 courts | Academy of Sport Narrabeen – 2 |
| Queenwood Girls School – 2 courts | Manly Warringah Tennis Association – |
| 5 Australand Properties – 6 courts | Elanora Country Club – 4 courts |
| Tahiti Tennis Club – 2 courts | Australian Embassies: |
| Black Springs Tennis Club – 2 courts | – Tokyo |
| Southerland Council – 12 courts | – Seoul |
| Pymble Ladies College – 4 courts | – Apia |
| Fijian Hotel – 4 courts | – Phonepi |
| The Kings School – 4 courts | – Suva |
| Lismore Tennis Club – 3 courts | Bridgine College – 2 courts |
| N.S.W Department Sport Narrabeen | Sheraton Hotel Fiji – 4 courts |
| Kangaroo Valley Tennis Club – 2 courts | Suva City Council – 4 courts |
| Kenthurst Tennis Club – 6 courts | East Albury Tennis Club 4 courts |
| Tennis Northern Beaches – 4 courts | Elanora Heights Tennis Club – 4 courts |
| Terrey Hills Tennis Assoc – 2 courts | Sydney Girls High School – 2 courts |
| Freeport Mine Papua NG – | Belrose Tennis Club – 2 courts |
| 2 courts & 2 soccer fields | Barker College – 6 courts |
Free estimate:
RECREATIONAL SURFACING PTY LIMITED
WILLIAM MORTLOCK
Managing Director
Director Sports Contractors Association Limited of Australia